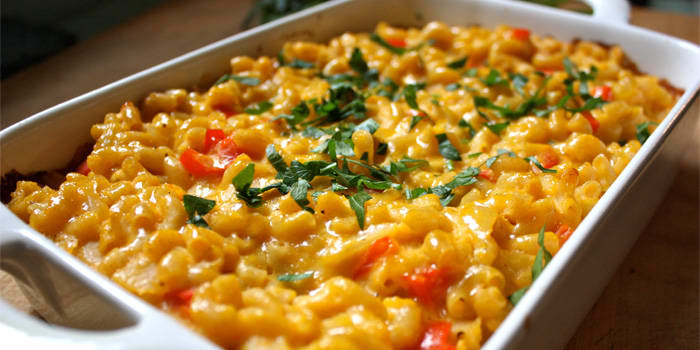 Butternut Squash Mac and Cheese
Recipe type:
Lunch/Dinner
Serves:
10 servings, about 1½ cups each
Ingredients
1 lb. dry whole wheat macaroni
1 tsp. olive oil
1 medium onion, chopped
2 medium red bell peppers, chopped
3 cups cubed butternut squash
1¾ cups low-sodium organic chicken broth
1 cup low-fat (1%) milk
2 Tbsp. low-fat (1%) plain Greek yogurt
1 cup shredded Gruyere (or Swiss) cheese
1 cup shredded sharp cheddar cheese
Sea salt and ground black pepper (to taste; optional)
Nonstick cooking spray
Finely chopped fresh parsley (for garnish; optional)
Instructions
Preheat oven to 375° F.
Cook macaroni according to package directions. Drain and set aside.
Heat oil in large nonstick skillet over medium-high heat.
Add onion and bell peppers; cook, stirring frequently, for 4 to 6 minutes, or until onion is translucent. Set aside.
Combine squash, broth, and milk in a medium saucepan. Bring to a boil over medium-high heat. Reduce heat to medium; gently boil for 22 to 25 minutes, or until squash is tender.
Place squash mixture in a blender or food processor; cover with lid and kitchen towel. Blend until smooth.
Combine squash mixture, macaroni, onion mixture, yogurt, and cheeses. Season with salt and pepper if desired; mix well.
Place macaroni mixture in a 13 x 9-inch ceramic or glass baking dish that has been coated with spray. Bake for 25 to 30 minutes, or until sauce is bubbling.
Garnish with parsley if desired.
Tip: Blend small batches of hot liquids in blender or food processor since they expand during the blending process, therefore decreasing the chance of overflowing.
Nutritional Information (per serving):
Calories: 298
Total Fat: 9 g
Saturated Fat: 5 g
Cholesterol: 25 mg
Sodium: 166 mg
Carbohydrates: 43 g
Fiber: 5 g
Sugars: 4 g
Protein: 15 g