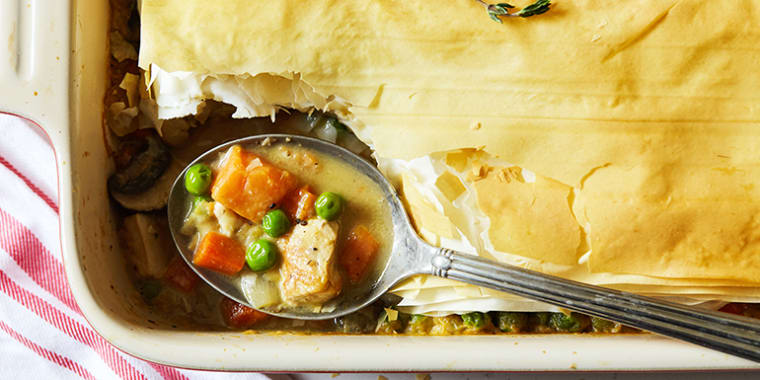 Chicken Pot Pie
Recipe type:
Lunch/Dinner
Serves:
6 servings, about 1 cup each
Ingredients
6 tsp. olive oil, divided use
1 medium onion, chopped
2 medium carrots, chopped
4 oz. sliced mushrooms
2 Tbsp. whole wheat flour
1½ cups reduced fat (2%) milk
1 cup low-sodium organic chicken broth
½ tsp. sea salt (or Himalayan salt)
½ tsp. ground black pepper
1 tsp. finely chopped fresh thyme
¾ cup frozen green peas
¾ cup cubed cooked sweet potatoes
2¼ cups cubed cooked chicken breast (approx. 12 oz.)
6 sheets phyllo dough (each approx. 12 x 17-inches), thawed, covered in a
slightly damp towel
Instructions
Preheat oven to 375° F.
Heat 2 tsp. oil in large nonstick skillet over medium heat.
Add onion and carrots; cook, stirring frequently, for 4 to 5 minutes, or until onion is translucent.
Add mushrooms; cook, stirring frequently, for 4 to 6 minutes, or until mushrooms are soft and most of the liquid has evaporated.
Add 1 tsp. oil; cook, stirring frequently, for 1 minute.
Add flour; cook, stirring frequently, for 1 to 2 minutes, or until flour and oil form a paste.
Slowly add milk, broth, salt, pepper, and thyme. Bring to a boil, stirring frequently. Reduce heat to medium-low.
Add peas, sweet potatoes, and chicken; cook, stirring frequently, for 2 minutes.
Place chicken mixture in a 2½-quart baking dish. Set aside.
Place phyllo on work surface. Keeping the original stack covered, remove one sheet at a time and quickly brush with remaining 3 tsp. oil. Cut oiled stack of phyllo into quarters. Place phyllo loosely on top of chicken mixture; covering evenly.
Bake for 30 to 35 minutes, or until chicken mixture is bubbling and phyllo dough is golden brown.